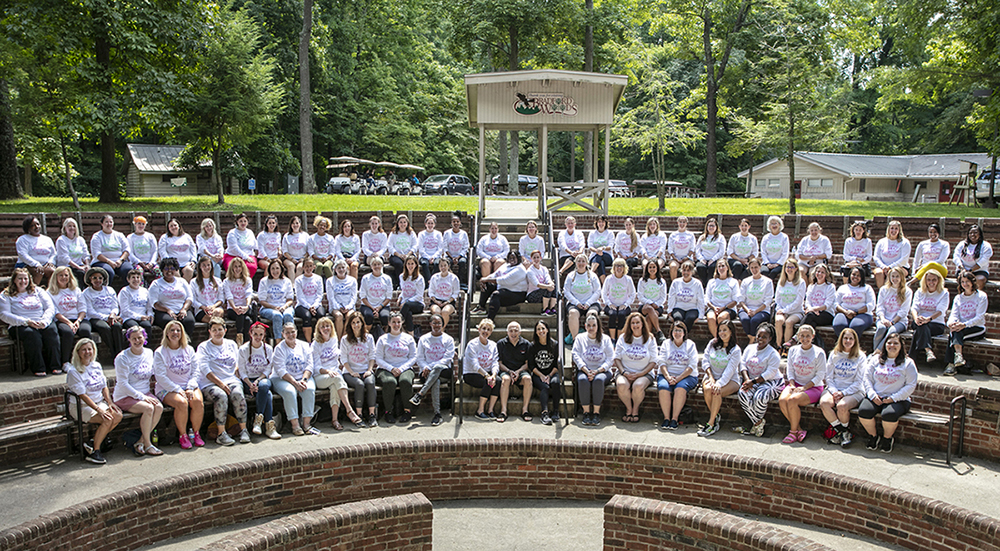 The 16th Annual Mickey's Camp For Women!
Mickey's Camp was a long-time dream of mine. In 2001, that dream came true with the inaugural Mickey's Camp. We pulled together 100 campers. In the past twenty years, Mickey's Camp has enabled adults to leave behind daily pressures, explore new opportunities, perfect old skills, and enjoy the camaraderie of fellow campers in a relaxed, informal atmosphere.
In 2022, women's and men's camps combined to raise more than $110,000 for over 60 charities. This year we are proud to present an extraordinary array of experts for Mickey's Camp for Women, scheduled for August 14-16 at Bradford Woods Outdoor Center. The keynote will be a presentation by IU President Pamela Whitten on Monday night. Campers will be treated to a performance from Discover Broadway on Tuesday night. Your time will be filled with exciting 90-minute sessions throughout Monday, Tuesday, and Wednesday. Options include charcuterie board making, sculpting, welding, painting, pickleball, stand up paddleboard and so much more. You may also relax at the beach, have a massage, or read a good book. Evening activities promise to be equally enjoyable as you will have the opportunity to dine on delicious cuisine, play in a poker or euchre tournament, eat s'mores around the campfire or turn the lights out early and rest up for another exciting day at camp. This year, sponsored meals include Cunningham Group, Eddie Merlot's, Metro Diner, Mimi Blue, and The District Tap.
Read on to learn about what's in store for you at Mickey's Camp for Women. Sign up soon; reservations will be held on a first come, first served basis.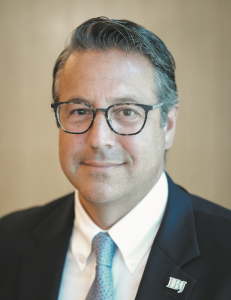 IBJ is excited for our new partnership with Mickey's Camp
IBJ Media is partnering with Mickey's Camp this year to bring exciting new activities and fun to camp. Pairing Mickey's Camp and IBJ is a natural—Mickey and I first met at Mickey's Camp 20 years ago. As a young lawyer working to build my network, my law firm recommended that I attend Mickey's Camp. Little did I know how Mickey's Camp would change my life for the better forever. My friendship, mentorship and business partnerships with Mickey all resulted from a chance meeting at Mickey's Camp. So many more wonderful friendships and opportunities I also can attribute to Mickey's Camp, and I know hundreds of other fellow campers who can attest to the same. 
Not only will you have the opportunity to try new activities, learn new skills and support local charities, but you will have a blast and take a much-needed break from day-to-day obligations. Learn from our new community engagement panel how to get involved with important organizations that are having state-wide impact. Tired of the political craziness?  Instead enjoy a civilized discussion on the future of education moderated by the Liberty Fund. Join business, civic and political leaders who are all working to make Indiana a better place to call home. And just maybe you will meet someone who will change your life at Mickey's Camp this year!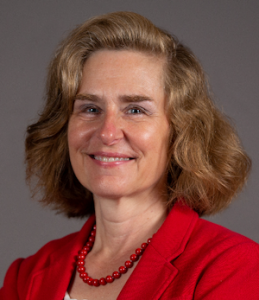 Monday Night Speaker
President Pamela Whitten
Pamela Whitten is the 19th president of Indiana University and the first woman to lead IU, a world-class public research university with seven campuses throughout Indiana.
Under her leadership, IU has emphasized three core missions: providing broad access to education for all students from Indiana and beyond; pursuing world-class research, scholarship, and creative activity; and making meaningful contributions to improving Hoosier health and the economic, social, civic, and cultural development of the state and the world.
During her time in office, President Whitten has accelerated the university's efforts to hire and retain diverse faculty and researchers, strengthened IU's commitment to sustainability, and renewed its focus on student mental health. She has placed a strong emphasis on prioritizing students across the state, appointing the university's first vice president for student success. She also led IU 2030, an interconnected strategic planning process across the entire university. In 2022, she announced a bold new vision for the Indianapolis campus that will transform IUPUI into IU Indianapolis by the start of the 2024 academic year.
The state's flagship university since 1820, IU has a record of leading innovation and advancing research and partnerships throughout the region that has continued during President Whitten's tenure. In 2022, the IU School of Medicine, the largest medical school in the nation, celebrated record-breaking funding from the National Institutes of Health, and IU expanded the enrollment and growth of its nursing program to address the state's nursing shortage.
Before joining IU, President Whitten held a variety of leadership roles in higher education, including serving as a dean at Michigan State University, as senior vice president for academic affairs and provost at the University of Georgia, and as president of Kennesaw State University. She is an internationally recognized expert in the field of telemedicine, holding a Ph.D. in communication studies and a Master of Arts in communication.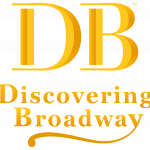 Tuesday Night Entertainment
Discovering Broadway
Discovering Broadway is a pre-Broadway incubator program based in Central Indiana. The not-for-profit exists to strengthen the arts scene and solidify Indiana as a launchpad for Broadway. They will be sharing their history, working with Sir Elton John, and they will present a sneak peek from Broadway bound musicals and premiere never-before-heard-songs.
SPONSORED BY