The 13th Annual Mickey's Camp For Women!
Mickey's Camp was the long-time dream of local businessman Mickey Maurer. In 2001, this dream came true with the inaugural Mickey's Camp for Men. In the past twelve years, Mickey's Camp for Women has enabled adults to leave behind daily pressures, explore new opportunities, perfect old skills and enjoy the camaraderie of fellow campers in a relaxed, informal atmosphere.
Last year more than 100 women attended the 12th annual women's camp. The women's and men's camps combined to raise more than $180,000 for over 80 local charities. This year we are proud to present an extraordinary array of experts for Mickey's Camp, scheduled for August 12-14, at Bradford Woods Outdoor Center.
Your time will be filled with exciting 90-minute sessions throughout Monday, Tuesday and Wednesday. Options include gourmet cooking, juggling, painting, essential oils, cheese making, a day on the lake and so much more. You may also relax around the pool, have a massage or read a good book. Evening activities promise to be equally enjoyable as you will have the opportunity to engage in dialogue with Judge Sarah Evans Barker, dine on delicious cuisine, play in a poker or euchre tournament, eat s'mores around the campfire or turn the lights out early and rest up for another exciting day at camp. This year, sponsored meals include: Amore Pizzeria Ristorante, Cunningham Restaurant Group, District Tap, Kahn's Catering, and Mimi Blue Meatballs.
Read on to learn about what's in store for you at Mickey's Camp for Women. Sign up soon; reservations will be held on a first come, first served basis.
Sarah Evans Barker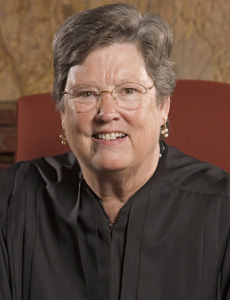 Sarah Evans Barker has served since 1984 as a judge of the U.S. District Court, Southern District of Indiana following her appointment by President Ronald Reagan. Between 1994 and 2001, Judge Barker served as chief judge of her court. Prior to becoming a judge, she was the United States Attorney (1981-1984), a lawyer in private practice and a legislative assistant on Capitol Hill. Judge Barker served as president of the 900-member Federal Judges Association (2007-2009) and currently serves on the Judicial Conference committee on Judicial Conduct and Disability by appointment of Chief Justice John G. Roberts.
Judge Barker has served on numerous judicial, bar-related, civic, educational, cultural and religious organizations, including the State of Indiana Bicentennial Commission, the board of directors of Indiana University Health, Inc., the Indiana Academy and The Gathering. She has been the recipient of numerous awards and recognitions including ten honorary degrees from universities, colleges and a seminary.
Judge Barker was born and raised in Mishawaka, Indiana as a member of a large and happy family. She completed her undergraduate degree at Indiana University and received her J.D. from the American University Washington College of Law. She and her retired attorney husband, Kenneth R. Barker, have three grown children and seven beautiful grandchildren.

Mimi Blue Meatballs
Lunch on Monday
Mildred (Mimi) Bluestein Kosene, "Mimi Blue", was born and raised in Indianapolis — back when downtown was the only town — when people got dressed up for the theater and restaurant dining was a luxury.
Mimi Blue Meatballs is a tribute to our mother "Mimi Blue" Kosene. Mimi was a lady, endowed with manners, taste, and an easy social grace. She loved good food — whether dining out or cooking for her hard-working husband and three sons. Every home-cooked meal had to satisfy the whole family, as well as any friends who often stopped by. Cooking was the way she brought us together, kept us healthy, and showed us love.
At Mimi Blue, we make the kind of food Mimi cooked for us at home, but we serve it in the type of old-world urban setting that Mimi enjoyed so much. Like Mimi herself, our meatball dishes are classics. Each recipe is rooted in culinary tradition, but refined for the modern palette.

The District Tap
Lunch on Tuesday
Let The District Tap help transform your next meeting or celebration into a truly Special Event. They have 60 beers on tap and three private event spaces onsite to accommodate a wide range of needs and a Game Room — perfect for smaller gatherings — that includes darts and shuffleboard tables. The Craft Cellar is ideal for up to 60 guests (seated) and comes with five TVs and full AV capability. For even larger events they have The Rickhouse, an 1,800-square-foot private room with a full bar, and a private patio that can accommodate up to 150 guests.
If you booked your event space elsewhere, The District Tap will bring their signature Damn Good Food to you.

Amore Pizzeria Ristorante
Lunch on Wednesday
Amore Pizzeria Ristorante is an authentic family owned New York style pizzeria serving top quality hand-made family recipes since 2003. Started by two brothers Chris and Dan Simone, Amore brought a little slice of their Italian upbringing in New York to Indiana. Since then they have been sharing their family recipes with the people of Zionsville and beyond.

Cunningham Restaurant Group
Dinner on Monday
Since 1997, Cunningham Restaurant Group (CRG) has been committed to creating unforgettable dining experiences. CRG owns and operates locations in Indiana, Kentucky, and Ohio.
In the communities we serve, we will be the restaurant of choice for delighting our guests. Local is best. And for us, local starts with you and me: neighborhoods and communities where we live, work, and play. From its humble beginnings in Brownsburg, Indiana to a growing tri-state restaurant group, CRG represents a steady beat of expansion and innovation fueled by a commitment to community impact.
From BRU Burger Bar, a gourmet burger and craft beer hangout, to Vida, a fine dining venue with sommeliers in-house, CRG invites guests to engage in restaurant dining like never before. CRG restaurants are part of the fabric of communities. Visit www.crgdining.com to see all of our locations, make reservations, or to explore private dining opportunities.

KAHN'S CATERING
Dinner on Tuesday
Kahn's Catering sets the standard for Indianapolis catering and event planning. Our reputation as one of the best Indianapolis caterers comes because we believe in the finest and freshest ingredients delivered at the highest level of customer service. Paired with our signature venue, Montage, and our exclusive landmark venues, including Eiteljorg Museum, Indiana State Museum, Newfields and Scottish Rite Cathedral, Kahn's Catering is the trusted choice for events. Whether we're catering a wedding reception, gala or corporate event, we hold ourselves to the highest standards — our own.

Great Cooks LLC
Smore's Bar Monday Night
Great Cooks LLC was originally opened in Indianapolis in 1997 and has grown to become one of the most respected catering companies in the city. We consist of a staff passionate about fresh and seasonal foods prepared in classic style and artistically displayed. We believe food should have entertainment unto itself. Our creative chefs, owner chef and staff offer customized catering and consulting services. Nancy Landman, chef owner, keeps up on the latest food trends, yet remains faithful to her classic European classic training.
One of Nancy's important beliefs is to limit the number of events catered on any given day. This allows time to give "attention to detail" for each event. Please call for assistance in your next event, large or small. Great Cooks caters weddings, landmark birthdays, bar & bat mitzvahs, intimate events, business meetings and soirées all with the same degree of importance and finesse.
Backpacks – Detail + Design
Beer & Wine – Heineken
Chair Massage – Enroute Spa
Golf Carts – Indiana Black Expo
Hospitality Area Monday Night – Gregory & Appel
Hospitality Area Tuesday Night – JW Marriott Indianapolis
Late Night Snack – Just Pop In!
Morning Coffee –Mission Coffee, LLC
Pens – Fusion Alliance
Restroom Baskets – Fusion Alliance
Turn Down Gift – Gallery Pastry Shop
Turn Down Gift – Lash & Brow Design Co.
Water – Republic National Distributing Company
Water Bottles – Vera Bradley
Orientation for Rookie Campers
Is this your first year at Mickey's Camp? Check into Bradford Woods by 10:30 a.m. on Monday. We will have a first year camper orientation. Campers from our Advisory Board will be on hand to give tips on how to make your camp experience the best it can be, as well as give you a platform to meet the other first-year campers.