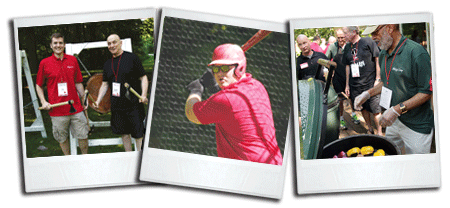 ACUPUNCTURE
Here is your chance to try acupuncture. Akimi Bash specializes in sports related injuries from minor sprains, strains, or chronic pains of the back, knees, ankles, neck, shoulders, and wrists. Also, find some relief from TMJ, headaches, allergies, insomnia, nausea, and general stress and anxiety. See if an ancient 3,000-year old treatment can help you with your modern problem. Akimi Bash L.Ac., L.M.T., M.A. received her Master of Science degree in Oriental Medicine in 2002. She is one of a few practitioners in Indiana who holds three national certifications by the National Certification Commission for Acupuncture and Oriental Medicine. She presently treats many NFL and Olympic athletes. She has treated athletes in many different professional events including the 2010 Super Bowl, and the 2008 and 2012 Tour of Gymnastics Super Stars. She toured with the Indy Racing League from 2004 to 2008.
ALPINE TOWER
Standing 50-feet tall, this vertical climbing structure is set on poles that crisscross toward the sky! Participants, both beginner and advanced, will be challenged by the pole climbs, dangling logs, seesaw log, high woozy, hanging ladders and much more. It is a creative way to be challenged both physically and mentally while being continuously on-belay!
APOLLO 11
Celebrate One of the Greatest Achievements in Human History
Fifty years ago, July 16, 1969, three men launched from Kennedy Space Center, FL to fulfill a mission set out by President John F. Kennedy — land men on the moon and return them back safely. Neil Armstrong, Buzz Aldrin and Michael Collins did just that, and for that moment, the world united and celebrated this incredible feat. Apollo 11 showed what happens when humanity aims high, when science and creativity are united in achieving something truly great for the human species. The Apollo 11 broadcasts reached as many as one billion viewers, or most everyone on Earth within reach of the satellite television signal, which at the time was the largest audience ever assembled for any human event. It had a profound philosophical effect on society, an existential moment experienced via global television, a moment that remains unrivaled in the history of our species. Join Link Observatory as they tell this remarkable story.
ARCHERY
Pick up a bow, launch an arrow, and the spirit of an archer god may possess you. Attend the archery session to learn about this ancient art used for hunting, warring, and for peaceful relaxation. We'll talk about proper stance and form, eye dominance, aim, how to grip the bow, draw the string and how to use a consistent anchor point. We'll also discuss how to select archery equipment to fit you and your needs. Archery is an activity that can be enjoyed on many levels — in heated competition or in solitary self-challenge.
BIRDS OF PREY
(Joint Activity only — see bottom of registration form to participate)
Don't miss an opportunity to see live birds of prey from the Eagle Creek Ornithology Center! Birds of Prey or Raptors are a group of birds including hawks, owls, eagles, and falcons that hunt and eat other animals by using some of their incredible adaptations. Join a naturalist and a few avian education ambassadors as we examine some of those adaptations and give you an up-close look at these great hunters.
CANOEING
Explore a 110-acre lake in a canoe. Instructors will teach proper canoeing techniques, several paddling strokes and canoe safety. Once participants learn the basics, they will be able to practice them on Bradford Woods' calm and relaxing lake.
CHEESE AND WINE
Taste some of the world's best cheeses with Max McCalman. Not only will you taste some of his favorite cheeses you will learn which wines pair best with them and why. Renowned as one of the cheese world's living legends for his expertise, insight and passion, Max McCalman is dedicated to helping others understand and enjoy the unique pleasures of artisanal cheeses.
Max McCalman became America's first restaurant-based Fromager at New York City's Picholine Restaurant in 1995. The success of the program led to the creation of the Artisanal Bistro in 2001, then to the establishment of the online retailer www.artisanalcheese.com in 2003 where Max served as its Maître Fromager, Director of Affinage and Dean of Curriculum.
McCalman is the author of four books on cheese, including: Mastering Cheese — winner of Gourmand Cookbook Awards' Best Book on Cheese in Twenty Years; Cheese, a Connoisseur's Guide to the World's Best — winner of a James Beard Award; The Cheese Plate and Max McCalman's Swatchbook of Wine & Cheese Pairings. Max launched Max McCalman's Cheese & Wine Pairing app on iTunes in 2016. McCalman is a Maître Fromager in the Guilde Internationale des Fromagers Saint-Uguzon and sits on the American Cheese Society's Board of Directors, an organization for which he served as a founder of its Certified Cheese Professional endeavor. Max joined The Wine Room in Winter Park and Delray Beach, Florida as its Maître Fromager in July 2018.
CHEESE MAKING
Learn how to make cheese from Traders Point Creamery. Cheese Maker Jonathan Love will guide campers through the process of making cheese. Each camper will be making his own cheese and then pick up his finished product at the creamery when it is aged.
Traders Point Creamery is an organic, 100% grass-fed dairy farm and artisan creamery in Zionsville, Indiana. As the first USDA-certified organic dairy farm in the state, they believe in "nourishing the land that nourishes us all" by farming in harmony with the land and crafting the most nutritious dairy products possible. Since 2003, they have grown to include a farmstead restaurant, dairy bar, farm tours, and exclusive event spaces.
CLIMATE CHANGE
What is climate change? Is it real? Is it natural or man-made? Will it destroy human life on our planet? What should we be doing about this? Ellen Ketterson represents scientists and scholars and policy experts who are studying these questions and how the answers will influence our future here in Indiana.
Ketterson received her Ph.D. from Indiana University and joined the faculty at IU Bloomington in 1984. She is director of the Environmental Resilience Institute and a Distinguished Professor of Biology. She is looking forward to sharing her experiences with a Grand Challenge Initiative at IU entitled Prepared for Environmental Change. The institute is making significant progress in providing Indiana with reliable predictions about change: where, what and when. With that knowledge, communities and individuals will be better informed about what they can do to be part of the solution as we work together towards environmental preparedness.
CROSSFIT
Blake Ruff is the owner of 2 CrossFit gyms on the Northside of Indianapolis. Blake started with small group training sessions and noticed the results and energy of group training. Looking to expand, he started to train with CrossFit. Taking what he learned from personal training and combining it with CrossFit he opened 2 CrossFit gyms in 2013 — CrossFit Dash and CrossFit Castlewood. Blake holds multiple certifications that allow him to coach weightlifting, skill movements and conditioning. Since opening he has expanded his gyms and brought fitness to all different age groups and fitness levels. Both gyms offer a range of classes from CrossFit kids to a cardio based system called CrossFit Bootcamp to traditional CrossFit classes. Blake uses CrossFit to help people in everyday life, utilizing functional movements to allow them to be safer and stronger.
DAY ON THE LAKE
N3 Boatworks is a locally owned boat dealership located on the northeast side of Indy specializing in Ski-Wake-Surf style family inboard boats. N3 features a fully stocked pro shop, on-site storage and a dedicated, experienced service tech team. N3 will be at the beach to provide you with an on-water experience like no other behind a custom N3 Nautique. Go for a pull with us on a wakeboard-wakesurf-waterski or go for a good ole' tube ride! See you on the water!
DRONES
These are very similar to commercial drones and the technologies overlap. In this session we will explain: current laws governing the operation of drones/remote controlled aircraft, the different types of drones available, the components required to build a drone, different applications that drones are being utilized for, a shopping list of what's available to purchase/assemble.
The technology keeps advancing and so have the drones at Mickey's Camp. This session will offer beginners an intro to basic drones. We have also upgraded to GPS assisted drones to get you in the air sooner. If you want to try out creating waypoints and programming a drone we can do that too. If you're interested in FPV racing or just want to see what drone racing looks like, this session will not disappoint.
ENTREPRENEURIAL THINKING
Building a competitive advantage in today's organizations can only be accomplished through innovation and the creation of new ideas. Come hear from one of the leaders in entrepreneurship in Indiana, Scott. Dorsey. Dorsey will talk about his experiences as an entrepreneur and starting and scaling SaaS (software as a service) companies.
Scott Dorsey is the Managing Partner at High Alpha, a leading venture studio focused on starting and investing in B2B SaaS companies. Prior to High Alpha, Scott co-founded ExactTarget and led the company from startup to IPO on the New York Stock Exchange and ultimate sale to Salesforce for $2.5 Billion. Post-acquisition, he led the ExactTarget Salesforce Marketing Cloud which encompassed 3,000 employees and included the teams at ExactTarget, Buddy Media and Radian6. Scott is an acclaimed business and civic leader who has earned numerous accolades for his leadership, including Ernst & Young Entrepreneur of the Year, Techpoint Trailblazer of the Year, American Business Awards Executive of the Year, two-time recipient of the Indiana Sagamore of the Wabash, Central Indiana Junior Achievement Business Hall of Fame, Indiana Chamber of Commerce Business Leader of the Year and IU Kelley School of Business Distinguished Entrepreneur Award. Scott serves on a number of non-profit boards in the community, including Chairman of the Indiana Sports Corp., Chairman of Nextech, Executive Committee of Techpoint, and Global Advisory Board at Kellogg School of Management at Northwestern University.
EUCHRE TOURNAMENT
We will host a Euchre Tournament again this year. If you are interested, please join us in the dining hall after formal activities on Thursday night.
FACIALS
For a second year in a row, David Miller, former Co-Owner/Esthetic Director of "David and Mary" Salon/Spa returns with his talented Team of Estheticians from the BEAUTY LOUNGE Salon/Spa in Carmel, Indiana, providing facials to soothe your skin and your senses. Leave your facial session with smooth, healthy looking skin. You will feel the difference and friends will notice the added "glow!"
FISHING ON THE LAKE
Want a relaxing morning on the pontoon? Join Bradford Woods staff on a fishing expedition on the lake. They will show you all the best fishing holes the camp has to offer.
FLY FISHING
Through hands-on fly fishing instruction provided by local expert Jon Widboom, participants will be schooled in the magic of fly fishing. Widboom has been fly fishing around the world for more than 30 years, including Africa, Asia, Europe and South America.
GALLERY PASTRY SHOP: MACARONS
Join Chef Ben from Gallery Pastry Shop in one of his popular macaron classes. Chef Ben graduated Summa Cum Laude from Le Cordon Bleu International Culinary Academy with a degree in Pastry Arts and has been a pastry chef for nearly 19 years. He and his business partner, Alison Keefer, opened Gallery Pastry Shop located in SoBro in 2015 where he regularly holds a macaron class for interested guests. Chef Ben will walk campers through the macaron production process and important details to ensure a successful macaron recipe.
GOLF
We will work on the fundamentals of your long game and provide a possible new perspective on your putting. Bring your 7 iron and your putter, or use one of ours. Simple adjustments to your address position and target perception can make a huge impact in your overall game.
Erika Wicoff, Lead Instructor for The Golf School of Indiana, will be helping you along the way. She has been teaching for over 12 years after a successful playing career that includes winning three Big Ten Individual Championships, two US Women's Amateur Medals and competing in five US Women's Opens while playing on the LPGA tour for six years. An IU Athletic Hall of Fame Inductee, her experience competing and teaching will help you play better golf.
GOURMET COOKING WITH CHEF WHETSTONE
Join Personal Palate's Executive Chef Patrick Whetstone as he teaches, explains, and executes a multicourse dinner menu. There are always plenty of ways to assist and delicious things to taste during this unique culinary voyage. This Warsaw native cut his teeth at Bistro Alago in his hometown, starting work bussing tables on his 16th birthday, moving on to dishwashing and — lucky for us — learning to cook.
Whetstone graduated from Johnson and Wales University, North Miami, Florida, and opened David Bouley's Evolution inside the Ritz-Carlton, South Beach. He found himself wanting to share his skill and creativity by returning to Indiana. Upon his return, he worked for Indianapolis Dine magazine. He further shared his expertise by serving as the Executive Chef for Empyrean in Fort Wayne, Indiana. Now, he enables others by teaching at Ivy Tech and promoting innovation as the Executive Chef for Personal Palate. Support from his family and his extreme passion for food has played a significant role in the overall experience of those on the receiving end of his culinary artistry.
GRILLING
Join Ernie Verbarg, 2012 Indiana State Fair Barbecue Grand Champion and owner of Grilliant Foods, as he shares his secrets to preparing award winning barbecue. In addition to sharing competition tricks and tips, he will teach how to grill and smoke your own award-winning BBQ at home including whole beef brisket, BBQ chicken, ribs and burgers. Sampling of these grilled specialties will be part of the session as well.
HISTORY OF FILM – WESTERNS
From the very first piece of narrative film ever shot, the Western genre has made an indelible mark on cinematic history. The classic Westerns of the 1940s and 1950s and the Italian spaghetti Westerns of the 1960s helped define and redefine America, its myths, history, and values. Take a deep look into the history of Western films, how they have changed through the decades, and modern interpretations of this classic American genre.
Tim Irwin worked for Heartland Film, the largest film festival in the Midwest, for seven years, and was Artistic Director for four years. As Artistic Director, Tim was ultimately responsible for the programmatic and artistic direction of the organization. Tim is actively involved in photography and videography, and has recently finished a pilot episode of the series "Artrageous with Nate" and is currently seeking international distribution for the show.
HORSESHOE PITCHING
Learn how to play a simple, fun variation of this game that dates back to before the Roman Empire. Campers will be taught pitching technique and how to be competitive against anyone. All participating campers will be automatically entered into the Camp Tournament. Continuous results will be posted at the Horseshoe courts located near the dining hall.
The courts will be open all day besides the regular session times. Stop by at any time (sessions, between sessions, etc.) and "pitch a game"! Campers can record as many games as they want and keep the best game for the Camp Tournament. You can also bring a friend and enter the doubles tournament.
iPHONEOGRAPHY
Create stunning images with your iPhone. There's a saying that the best camera is the one you have with you. For many of us today, that camera is the iPhone. Award-winning photographer Rad Drew will show you how to make great photos using your iPhone. He will introduce you to techniques for making portraits, shooting beautiful panoramas and capturing action shots. After you have the shot, then what? Rad will demonstrate, using a few simple apps, how you can make your images sing! Although a photographer for many years, in 2010 he acquired his first iPhone. Since then, his creative iPhone images have received numerous awards and have made their way into juried international competitions showing in galleries around the world. Rad teaches mobile photography to individuals, corporations, and professional organizations and leads destination tours, which are great ways to learn while photographing beautiful areas of the world.
JUGGLING
Most adults think they could never learn to juggle, but with the right teacher you absolutely can! Mark Hayward has been juggling professionally for 30 years, and has the right technique to teach you to juggle. We'll start with one-ball tricks and move up from there. You will leave with great techniques and a set of juggling balls to continue to improve your skills.
Mark Hayward has been a variety arts performer since 1990. He is a World Yo-yo Champion, a member of a World Champion Juggling Team, and a Spin Top Champion. His mom is proud. Mark has traveled the world with a yo-yo on his finger (well, mostly in his pocket), and has made appearances on The Late Show with David Letterman (twice), The Late Late Show with James Corden, America's Got Talent, and the NBC Nightly News (without committing a crime). Someday Mark hopes to perform for both the President and the Queen. Not being a convicted criminal should help with that.
KETO BAKING
Learn to make a Keto treat with Pastry Chef Amy Norcross, owner of Victory Rolls and Baked Goods, and taste several others. Participants will learn the difference between artificial sweeteners and what they do to your blood chemistry, as well as which ones are best for baking, etc. Special diet treats can taste amazing! Let us show you. Please note that this class will use ingredients including nuts, dairy, and tree nuts. Participants will go home with a recipe they can use, as well as a coupon for Victory Rolls and Baked Goods.
LINK OBSERVATORY VISIT
(Evening Tours)
Have you ever wanted to look through the eyepiece of a research grade telescope? Come visit the historic Link Observatory which at the time of its construction was the 8th largest telescope in the nation. Owned by IU since 1948, you can learn about the significant contributions the facility has made to the worldwide database of scientific knowledge. Look through the eyepiece and see celestial objects in vivid detail. Learn how the observatory is advancing STEM education in Indiana and inspiring the next generation. Join us as we explore the wonders of the universe. On Thursday night a shuttle bus will be making round trips throughout the evening from dusk until 11:30 p.m. No need to sign up — everyone is welcome!
MANICURE
Let NEAT Mobile Nail Salon pamper you at camp with a manicure. NEAT is a mobile nail salon serving central Indiana. NEAT is all about high-quality manicure and pedicure services, good vibes and making Indy more beautiful one mani/pedi at a time.
MASSAGE
Whether you like sports, deep tissue or just a relaxation massage, our certified massage therapy staff will be on hand to soothe the sore muscles you may get during all of the fun activities available at Mickey's Camp. Never had a massage? This is the perfect opportunity to try one! All members of our professional staff are equipped to handle the first-time client or the massage veteran. Treat yourself!
NASA
David Wolf is a graduate of North Central High School, Purdue University (undergraduate), and Indiana University (doctorate). He holds 17 US patents, has published over 40 technical papers, and has conducted seven spacewalks during his 168 days in space. He was most recently named to Vice President Pence's National Space Council User Advisory Group.
It is plenty exciting to blast off in a rocket ship, live on a Spacecraft, and float weightless in space — and astronaut Dr. David Wolf will share plenty of that. This year there are two session options:
NASA: Movie Fiction vs. Fact
In this session David will go through some famous movie clips and talk through what is realistic and what is pure movie magic — separating facts from fiction.
NASA: Stories from an Astronaut
Like other organizations, NASA has had mixed success in sustaining the innovative spirit in the face of budget and operational constraints. Although we all agree that innovation is a cornerstone of success and progress, it is often the first to go when hard choices must be made. David Wolf has navigated this challenge from small projects through those with large programmatic impact to considerable national treasure, including those with life and death consequences. Through graphic display of his work at NASA and since, David vividly weaves the core elements and philosophy of innovation in critical systems with the impact and excitement of Spaceflight and Space research.
NATURE HIKE – BIRD WATCH
What makes a bird a bird? Enjoy an introduction to bird adaptations and bird identification as you investigate a variety of bird habitats at Bradford Woods. Common local birds will be identified by using field observation techniques and proper use of binoculars and field guides.
NATURE HIKE – WILD EDIBLES
You can eat wild plants? The primary objective is to increase awareness of wild edible plants available in south central Indiana. At the conclusion of this session, participants will be able to identify those plants found and discussed, know which part of the plant is edible, and learn how to use them to prepare food.
PICKLEBALL
Jeremy Rosenstein and Sandy Schwarz will be teaching Pickleball this year. The fastest growing sport in America provides fun, great exercise and awakens your competitive spirit. Pickleball will make you move by hitting the small whiffle ball all over the court with a paddle like mini-tennis. Jeremy, who is also a sports videographer, has been coaching a variety of sports including tennis and pickleball since 2009. This will be his 6th year with Mickey's Camp. This will be Sandy's 4th year of teaching. She is an avid player and has conducted several tournaments.
PIE MAKING
Join the "Pie Shop Girls" for a fun-filled informative pie making session or two on how to make, bake and decorate beautiful homemade pies! Lisa Sparks has been in the pie making business for around 33 — YES — 33 years! Perfecting her craft, making, and serving literally millions of pies throughout the years to many a person from nearly everywhere in the US and beyond. "We girls take pride in our little shop that has reached so many and would love the opportunity to share with you some of our techniques to create a fantastic homemade pie!" This session will be fun-filled and interactive for sure, but practical and helpful too for any and all pie-making questions.
POKER
Sharpen your poker skills with two of poker's greatest instructors/players. Linda Johnson was the third woman in history to win a gold bracelet at the World Series of Poker and has won more than 100 poker tournaments including the California State Ladies Poker Championship. Nicknamed the "First Lady of Poker," Linda's accomplishments in poker are extraordinary. Last year she became the inaugural inductee into the World Poker Tour Hall of Fame. She has co-written three poker books and writes a column for a national poker magazine. She was inducted into the Women in Poker Hall of Fame in 2008 and the Poker Hall of Fame in 2011.
Jan Fisher started her poker career in 1977 when she became a poker dealer. Fisher dealt in many cardrooms in Las Vegas then moved on to semi-professional playing and poker management. She wrote the Poker 101 column for Card Player magazine for more than 10 years and was inducted into the Women in Poker Hall of Fame in 2009. Johnson and Fisher are partners on Card Player Cruises.
POKER TOURNAMENT
Join in the fun and participate in the annual Mickey's Camp Poker Tournament. Come try to win the coveted trophy and bragging rights for next year.
POLICE TRAINING EXERCISE
The training officers are bringing all new scenarios this year. This state-of-the-art simulation system has the tools to enhance an officer's judgment, speed of engagement and accuracy. This allows the officer to make decisions about the use of force and what degree of force to use, at real-time speed, and then answer for his or her actions. Individuals attending this training will receive an overview of the capabilities of the simulation system and be given the opportunity to participate in fun, stress-free, firearm skill building exercises.
POLITICS: LESLEY WEIDENBENER
The electorate may be divided about Donald Trump and the Democrats may be struggling to settle on a single candidate among the dozens running but we can surely agree politics can still be fun to debate. Join longtime political reporter and editor Lesley Weidenbener, the managing editor at Indianapolis Business Journal, for a lively and yet civil discussion about what's happening in local, state and national races. Lesley covered the Indiana Statehouse for more than 20 years, a span that included five governors, for three different news organizations. Now she oversees IBJ's political and government coverage, always with a focus on keeping the politicians on their toes and the public information in the hands of taxpayers. Join Lesley for a non-partisan, interactive discussion about this year's mayoral races, next year's presidential contest and more.
RAFT RACING
Ready to put your engineering skills to the test? With raft racing, participants will use materials provided, and work together as a team in order to build a raft capable of traversing our 110-acre lake. Check out the lovely scenery, and enjoy some friendly competition!
RIFLE / PISTOL
The Shelby County Sports Shooting Club will help you explore the long and short of shooting sports. Beginning with the long guns, you'll learn the parts and operation of rifles, the different calibers and their uses, and have some fun knocking down steel targets. You'll also explore and shoot some handguns (pistols), including revolvers and semi-automatics.
RIPPED FROM THE HEADLINES:
Hot Topics in American and International Politics
Help set the discussion agenda and join the conversation with Dr. Pierre Atlas, Professor of Political Science at Marian University and monthly opinion columnist for Indianapolis Business Journal. Campers will suggest two or three current political topics to explore and discuss with Dr. Atlas, whose research and teaching expertise includes Middle East politics, international relations, US domestic and foreign policy, gun laws and gun culture. Although the topics you choose may be controversial and not all campers might agree with each other, the conversation will stay civil and respectful!
Pierre Atlas is a Professor of Political Science and Director of The Richard G. Lugar Franciscan Center for Global Studies at Marian University. Atlas was an opinion columnist for the Indianapolis Star for 16 years, and now writes a monthly opinion column for Indianapolis Business Journal. He obtained his Ph.D. in Political Science from Rutgers University and holds master's and bachelor's degrees in Political Science from the University of Arizona and the University of Toronto, respectively. Dr. Atlas is a comparative political scientist who devoted much of his career to studying and writing about the Middle East. He has a range of publications addressing US foreign policy in the Middle East, the Israeli-Palestinian conflict, and civil wars and ethnic conflicts.
SHOTGUN
The Shelby County Sports Shooting Club will teach you how to shoot a shotgun. You will learn that a shotgun throws a "charge" of pellets at a moving target, rather than a single bullet at a still target. Using a 20-gauge shotgun, you will learn the parts of the firearm and the ammo, as well as how to point and shoot, pattern, and how to hit that elusive flying clay target. Depending on how good your shot is, you may progress to official trap shooting for a little friendly competition.
SOCCER: LEADERSHIP IN BUSINESS AND SPORT
Indy Eleven Head Coach, Martin Rennie, will share the lessons he learned from coaching professional sports teams that translate to the business world. Additionally, Rennie will discuss the similarities between running high performing sports and business teams. Rennie worked in sales and marketing for nearly a decade before pursuing a career as a coach.
STAND UP PADDLEBOARD
SUPINDY will be providing the surf experience that is the fastest growing watersport in the world. SUP, short for Stand Up Paddleboard, is a way to enjoy the water, nature and fitness all while having a surf experience. SUPINDY provides rentals, sales and repairs throughout the state of Indiana.
SWIMMING – OPEN POOL
Not in the mood to take in an activity? Then why not just hang out at the pool! We will have open swim times for some relaxation in the sun.
TEA TASTING: MINI ART & SCIENCE OF CREATING YOUR OWN TEA
(JOINT SESSION ONLY – SEE BOTTOM OF REGISTRATION FORM TO PARTICIPATE)
Ever wondered what goes into making a tea blend? Now, you can experience it for yourself! In this session you will taste three, loose-leaf teas that can be used as the foundation of a blend. You will hear the health benefits of base teas and supplemental ingredients, as well as, brewing techniques. Each camper will smell the aromas, taste the flavors, feel the warmth, and chat with other tea lovers! Plus, each camper will take home (1) 2 oz. bag of your own tea creation.
Taught by Alexandra Harris, co-founder of Nelson's Tea & HoiTEA ToiTEA
TOMAHAWK / KNIFE THROWING
Vikings, Celts, Algonquians, Rocky Mountain men — they all used this tool for war and peace — and fun! Tomahawks were often carried instead of swords because they were more useful and versatile. But when it was time for a little friendly competition, a target was tacked to a nearby tree and the throwing axes would fly. Join us for some modern competition throwing tomahawks and even a few knives. You'll be surprised how addictive this simple activity becomes.
VIRTUAL REALITY
Virtual Reality takes gaming and entertainment to a whole new level. At BlueWall VR, they utilize high-end technology to immerse you in the virtual worlds of your choosing. All you have to do is slip on the headset and you will be transported to worlds you have to see to believe! From walking the plank, to shooting zombies in the west, we're confident we have something for everyone. BlueWall is excited to join us at Mickey's Camp and share this new technology with campers.
VODKA TASTING
Experience America's only Platinum Filtered Premium Vodka with Distiller Ben Heflin and Area Manager Heather Elrod
25 Times Distilled & 3 Times Platinum Filtered, Big Machine is the "Smoothest Tasting Vodka, Period!"
Big Machine has crafted world-class platinum brands while building and representing platinum music artists for over 13 years. We now bring that same platinum standard to our world class line of spirits. When you taste Big Machine Platinum Filtered Premium Vodka, you are enjoying the best there is. Gluten-free and only 66 calories per ounce, it is distilled to perfection to remove the impurities that help prevent the "morning-after headache."
Join one of our distillers, Ben Heflin, for this exclusive experience to learn more about how this ultra-premium, hand-crafted spirit is created with our proprietary still and platinum filter, at our two beautiful craft distilleries. One is located right in downtown Nashville and the other is an hour south in Lynnville, population, only 429.
In addition, our Area Manager, Heather Elrod, will elaborate on exciting details about our sponsorship of Indianpolis' own NASCAR race, The Big Machine Vodka 400 at the Brickyard powered by Florida Georgia Line.
Pour it on… Turn it up…
WELDING
Many have glued paper or wood together. In this session campers will weld metal together to create a functional product. An explanation of metalworking tools, techniques and safety will be followed by cutting metal with plasma, machining, preparing, and welding a special camp project that campers can take home. Camper Peter Beering has pulled together a team of professionals to help guide campers through this exciting session.
WINE TASTING
Carroll Wine and Spirits an Indiana purveyor of fine wines since 1990 and its owner Michel Pascel, a noted connoisseur of wines of the world, will give a knowledgeable educational presentation of appreciation of wine varietals.
Carroll Wine & Spirits (originally Carroll Company) was established in 1990 to fill the niche as Indiana's purveyor of fine wines from select producers worldwide. Their Mission is to source and represent fine wines and spirits from quality wineries and distilleries and provide them to our customers with unsurpassed service and responsiveness. And they are excited to bring that expertise to camp.
YOGA
Restorative Yoga – This class is appropriate for all students seeking the benefits of a very relaxing, gentle, and nourishing practice. The combination of gentle hatha and deep restorative work improves range of motion and joint mobility while reducing pain and the effects of stress. Yoga Nidra, known as yoga sleeping, will also be practiced during this class.
Vinyasa Yoga – Vinyasa is a style of yoga characterized by stringing postures together so that you move from one to another, seamlessly, using breath. This class creates a balanced body, flexibility and strength. All levels welcome.
Yoga 101 – This class is appropriate for those new to yoga. Students are introduced to the basic poses (asanas) in yoga and to the principles of proper alignment needed for a safe yoga practice. Students are also provided a foundation in yogic breathing, meditation techniques, and the core philosophies behind this ancient tradition. All levels welcome.
Yoga for Back Pain – Yoga offers many benefits that can help relieve or prevent low back pain. There are many contributors to this pain both physical and mental. Learn how to stretch, strengthen and relax the body. Postural alignment, balance and coordination will also be addressed. Learn how to recognize stressful or emotional states and how they contribute to physical health. All levels welcome.
YO-YO
Perhaps the most iconic toy in the world, nearly everyone has played with a yo-yo, but have you ever been trained by a World Yo-yo Champion? This is your chance to finally be able to yo-yo, or to get better if you already can. Want to show off to family, friends, or co-workers? The street cred you get from confidently busting out a few awesome yo-yo tricks can be powerful. Mark Hayward has been in the yo-yo business for 30 years, and has taught thousands of people to yo-yo with tried and true techniques. Teaching will be tailored to each individual's skill level, and all participants will get a yo-yo to take home to blow some minds.
Mark Hayward has been a variety arts performer since 1990. He is a World Yo-yo Champion, a member of a World Champion Juggling Team, and a Spin Top Champion. His mom is proud. Mark has traveled the world with a yo-yo on his finger (well, mostly in his pocket), and has made appearances on The Late Show with David Letterman (twice), The Late Late Show with James Corden, America's Got Talent, and the NBC Nightly News (without committing a crime). Someday Mark hopes to perform for both the President and the Queen. Not being a convicted criminal should help with that.
ZIPLINE
If you've never been on a zipline, you can start with a short 170-foot long zipline that runs down a ridge to get comfortable with the experience. The maximum height on this zipline is about 16 feet. Then, when you're ready, you can try the nearly 400-foot zipline that runs across the valley, reaching a maximum height of around 65 feet! It's a great way to experience Bradford Woods from new heights!