The 19th Annual Mickey's Camp For Men!
Mickey's Camp was the long-time dream of local businessman Mickey Maurer. In 2001, this dream came true with the inaugural Mickey's Camp. In the past eighteen years, Mickey's Camp has enabled adults to leave behind daily pressures, explore new opportunities, perfect old skills and enjoy the camaraderie of fellow campers in a relaxed, informal atmosphere.
Last year more than 120 men attended the 18th annual men's camp. The women's and men's camps combined to raise more than $180,000 for over 80 local charities. This year we are proud to present an extraordinary array of experts for Mickey's Camp, scheduled for August 14-16, at Bradford Woods Outdoor Center.
Your time will be filled with exciting 90-minute sessions throughout Wednesday, Thursday and Friday. Options include gourmet cooking, pie making, cheese making, juggling, a day on the lake and so much more. You may also relax around the pool, have a massage or read a good book. Evening activities promise to be equally enjoyable as you will have the opportunity to engage in dialogue with Purdue Coach Matt Painter, dine on delicious cuisine, play in a poker or euchre tournament, eat s'mores around the campfire or turn the lights out early and rest up for another exciting day at camp. This year, sponsored meals include: Amore Pizzeria Ristorante, Verde, The District Tap, Sullivan's Steakhouse and Public Greens.
Read on to learn about what's in store for you at Mickey's Camp. Sign up soon; reservations will be held on a first come, first served basis.
Matt Painter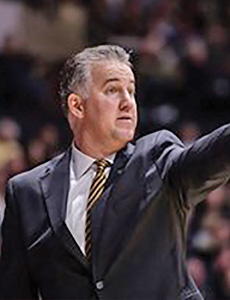 With four Sweet 16 appearances, 10 NCAA Tournament berths, two Big Ten regular-season championships, a Big Ten Tournament title and an international gold medal on his résumé, Basketball Head Coach Matt Painter is widely regarded as one of the brightest young minds in all of college basketball.
A newly-signed long-term contract to stay on board gives Painter the chance to cement himself as not only the winningest coach in Purdue history, but as one of college basketball's best coaches.
After reaching back-to-back Sweet 16s in 2017 and 2018, Painter has returned the Boilermakers to the Big Ten's hierarchy and has the program positioned near the top of the league.
Entering the 2018-19 season, Painter owns a 320-154 (.675) record in 14 years as a head coach, while attaining a 295-149 (.664) mark at Purdue.
Painter enters the 2018-19 season third on the school's all-time wins list (295) behind legendary mentors, Gene Keady and Ward "Piggy" Lambert, both of whom have been inducted into the College Basketball Hall of Fame. The exciting 2019 campaign saw Purdue come within one basket of the Final Four.

Amore Pizzeria Ristorante
Lunch on Wednesday
Amore Pizzeria Ristorante is an authentic family owned New York style pizzeria serving top quality handmade family recipes since 2003. Started by two brothers, Chris and Dan Simone, Amore brought a little slice of their Italian upbringing in New York to Indiana. Since then they have been sharing their family recipes with the people of Zionsville and beyond.

The District Tap
Lunch on Thursday
Let The District Tap help transform your next meeting or celebration into a truly special event. They have 60 beers on tap and three private event spaces onsite to accommodate a wide range of needs and a Game Room that is perfect for smaller gatherings that includes darts and shuffleboard tables. The Craft Cellar is ideal for up to 60 guests (seated) and comes with 5 TVs and full AV capability. For even larger events they have The Rickhouse, an 1,800-square-foot private room with a full bar, private patio that can accommodate up to 150 guests.
If you booked your event space elsewhere, The District Tap will bring their signature Damn Good Food to you.

PUBLIC GREENS
Lunch on Friday
Public Greens is a farm–market inspired restaurant that helps the Patachou Foundation, to feed wholesome meals to food insecure children in our community. The monthly changing menu features locally grown produce, humanely raised proteins and house made desserts, all served in a modern cafeteria style.
As a former sex crimes prosecutor, Patachou Inc. owner Martha Hoover had excellent, if unorthodox, training for the restaurant business. Without even one day spent working in the restaurant industry, she created a successful collection of establishments — Cafés Patachou, Petite Chou Bistro, Napolese Pizzeria, Public Greens and Bar One Fourteen. In 1989, Hoover used premium ingredients, prepared from scratch, and partnered with local vendors and farmers — unheard of at that time, when the phrase "farm to table" had not yet been coined and overused. Today, Patachou Inc. supports more Indiana family farms than all the other restaurants in Indianapolis combined.

Verde
Dinner on Wednesday
VERDE, Flavors of Mexico, is a family-owned, authentic Mexican restaurant serving delicious, authentic Mexican food. They use only the freshest ingredients, all prepared daily by their chefs. Their diverse menu features Mexican family recipes that have been passed down for generations. Their delicious salsa is made fresh every day.

Sullivan's Steakhouse
Dinner on Thursday
Sullivan's Steakhouse offers an experience unlike any other American steakhouse. From the moment you walk through their door, you will get a feeling that this will be an evening to forget your cares and rekindle romance. Slip into an intimate booth and treat yourself to hand-cut steaks, fresh seafood, signature cocktails and swinging live music. If you are looking to flirt with some new flavors, Sullivan's will be your sure thing. Sullivan's proudly serves a well-rounded selection of wine and spirits. Our extensive wine list is a recipient of Wine Spectator's "Award of Excellence" and offers an array of selections from around the world for everyone from the novice to the wine connoisseur. Whether out for business or a personal night with your loved one, it is always our pleasure to be your favorite local steakhouse.
Backpacks – Detail + Design
Beer & Wine – Heineken
Chair Massages – Enroute Spa
Golf Carts – Powers & Sons Construction
Hospitality Area Wednesday Night –JW Marriott Indianapolis
Late Night Snack – Just Pop In!
Morning Coffee – Mission Coffee, LLC
Pens – Fusion Alliance
Restroom Baskets –Fusion Alliance
Turn Down Gift – Gallery Pastry Shop
Turn Down Gift –  Victory Rolls & Baked Goods
Water – Republic National Distributing Company