The 17th Annual Mickey's Camp For Men!
Mickey's Camp was the long-time dream of local businessman Mickey Maurer. In 2001, this dream came true with the inaugural Mickey's Camp. In the past sixteen years, Mickey's Camp has enabled adults to leave behind daily pressures, explore new opportunities, perfect old skills and enjoy the camaraderie of fellow campers in a relaxed, informal atmosphere.
Last year more than 130 men attended the 16th annual men's camp. The women's and men's camps combined to raise more than $175,000 for over 80 local charities. This year we are proud to present an extraordinary array of experts for Mickey's Camp, scheduled for August 16-18, at Bradford Woods Outdoor Center.
Your time will be filled with exciting 90-minute sessions throughout Wednesday, Thursday and Friday. Options include gourmet cooking, fencing, drones, welding, fantasy football, CSI, a day on the lake and so much more. You may also relax around the pool, have a massage or read a good book. Evening activities promise to be equally enjoyable as you will have the opportunity to engage in dialogue with the 1968 Rose Bowl IU Football Team, dine on delicious cuisine, play in a poker or euchre tournament, eat s'mores around the campfire or turn the lights out early and rest up for another exciting day at camp. This year, sponsored meals include: Amore Pizzeria Ristorante, Prime 47, The District Tap, Nameless Catering and Sullivan's Steakhouse.
Explore on to learn about what's in store for you at Mickey's Camp. Sign up soon; reservations will be held on a first come, first served basis.
1967 IU Football Team Members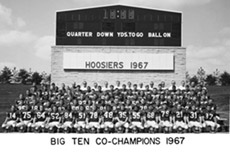 Many Hoosiers would say there is not much to be proud of when it comes to IU football. They would be wrong. The 1967 IU football team known as the "Cardiac Kids" were co-champions of the Big Ten. "Indiana's Cinderella dash to the Rose Bowl – accomplished despite an underdog's tag in practically every game – unanimously was named the top Hoosier sports story of 1967 by Associated Press sports writers and sports broadcasters.
In the Rose Bowl on January 1, 1968 they played the University of Southern California starring probably the most famous football player ever. Who was that? Dialogue with many of the players from that team including Harry Gonso, Eric Stolberg, Dr. Bob Russell, Al Gage, Nate Cunningham and captain Doug Crusan. Bob Hammel, Hall of Fame writer and author of a number of sports books, will facilitate the program.

Amore Pizzeria Ristorante
Amore Pizzeria Ristorante is an authentic family owned New York style pizzeria serving top quality hand-made family recipes since 2003. Started by 2 brothers Chris and Dan Simone they brought a little slice of their Italian upbringing in New York to Indiana. Since then they have been sharing their family recipes with the people of Zionsville and beyond.

The District Tap
Let The District Tap help transform your next meeting or celebration into a truly Special Event. They have 60 beers on tap and three private event spaces onsite to accommodate a wide range of needs and a Game Room that is perfect for smaller gatherings that includes darts and shuffleboard tables. The Craft Cellar is ideal for up to 60 guests (seated) and comes with 5 TVs and full AV capability. For even larger events they have The Rickhouse, an 1,800- square foot private room with a full bar, private patio that can accommodate up to 150 guests.
If you booked your event space elsewhere, The District Tap will bring their signature Damn Good Food to you.

Nameless Catering
Nameless Catering is locally owned by a pair of entrepreneurs born and raised in Indiana. People that work with Nameless enjoy the quick and easy ordering process, great food, and reasonable pricing. Nameless has catered thousands of events from 10 person meetings to 5,000 person retreats across the states of Indiana and Ohio.

Prime 47
Prime 47…Indy's Steakhouse is downtown's only locally owned USDA Prime Steakhouse. Not only does Prime 47 serve fantastic steaks, but the atmosphere, extensive menu & personalized service ensure that every guest is treated to the Prime Experience.
Set in the Majestic Building on the corner of Pennsylvania & Maryland, Prime 47 is a site to behold. With the original tile flooring, marble columns, and 18 foot windows, Prime 47…Indy's Steakhouse is the place to be see & be seen.

Sullivan's Steakhouse
Sullivan's Steakhouse offers an experience unlike any other American steakhouse. From the moment you walk through their door, you will get a feeling that this will be an evening to forget your cares and rekindle romance. Slip into an intimate booth and treat yourself to hand-cut steaks, fresh seafood, signature cocktails and swinging live music. If you are looking to flirt with some new flavors, Sullivan's will be your sure thing. Sullivan's proudly serves a well-rounded selection of wine and spirits. Our extensive wine list is a recipient of Wine Spectator's "Award of Excellence" and offers an array of selections from around the world for everyone from the novice to the wine connoisseur. Whether out for business or a personal night with your loved one, it is always our pleasure to be your favorite local steakhouse.
Backpacks – Ivy Tech Community College
Beer – Heineken
Golf Carts – Angie's List
Hospitality Area Wednesday Night – JW Marriott Indianapolis
Hospitality Area Thursday Night – IBJ
Late-Night Snack – Just Pop In!
Morning Coffee – Mission Coffee, LLC
Turn Down Chocolates – Children's Museum of Indianapolis
Water – Republic National Distributing Company
Wine – Monarch Beverage Company