The 20th Annual Mickey's Camp For Men!
Mickey's Camp was a long-time dream of mine. In 2001, that dream came true with the inaugural Mickey's Camp. We pulled together 100 campers. In the past nineteen years, Mickey's Camp has enabled adults to leave behind daily pressures, explore new opportunities, perfect old skills and enjoy the camaraderie of fellow campers in a relaxed, informal atmosphere.
In 2019, we were sold out. The women's and men's camps combined to raise more than $135,000 for over 80 charities. This year we are proud to present an extraordinary array of experts for Mickey's Camp, scheduled for August 18 – 20 at Bradford Woods Outdoor Center. The keynote will be a presentation by Scott Dolson, IU Athletics administrator and IU alumnus. Your time will be filled with exciting 90-minute sessions throughout Wednesday, Thursday and Friday. Options include chocolate making, sculpting, cheese making, pickleball, stand up paddleboard and so much more. You may also relax around the pool, have a massage or read a good book. Evening activities promise to be equally enjoyable as you will have the opportunity to dine on delicious cuisine, play in a poker or euchre tournament, eat s'mores around the campfire or turn the lights out early and rest up for another exciting day at camp. This year, sponsored meals include: Amore Pizzeria, Big Woods, The District Tap, Metro Diner, Public Greens and Sullivan's Steakhouse.
Read on to learn about what's in store for you at Mickey's Camp. Sign up soon; reservations will be held on a first come, first served basis.
Featured Speakers:
Scott Dolson
IU Athletics Administrator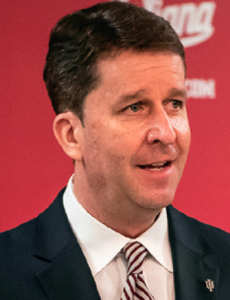 Longtime IU Athletics administrator and IU alumnus Scott Dolson began his tenure as IU's Director of Intercollegiate Athletics July 1, 2020. A native of Michigan City, Ind., Dolson spent the previous 11 years as the department's Deputy Director of Athletics and chief operating officer, where he played an integral role in helping IU Athletics to record-setting successes on the field and off.
"Given his background and experience in helping to oversee the recent growth and development of nearly every major area of IU's large athletics operation, Scott is extremely well-positioned to lead our intercollegiate athletics program and further its longstanding and storied traditions of excellence as well as build on Fred Glass' outstanding achievements of the last 10 years," IU President Michael A. McRobbie said. "For more than two decades at IU, he has demonstrated an unwavering commitment to ensuring that our student athletes achieve success both on and off the field, compete within the rules and represent IU with passion, integrity and distinction.
"Scott also fully understands that our athletics program must continue to be integrated into the university in all ways. He knows that our student athletes are, first and foremost, students, who are here to develop their athletics prowess while also earning a world-class education that will have an enormous impact on the rest of their lives."
In his previous role as Deputy Director of Athletics, he was instrumental in helping IU Athletics establish records for both athletic and academic success, including graduating students at unprecedented rates; make historic investments in facilities; deliver unprecedented fundraising dollars; and establish nationally recognized programs and policies focused on holistic student development and welfare.
Dolson helped oversee strategic planning of all facility projects and renovations, ensuring the successful completion of the university's Bicentennial Facilities Master Plan for IU Athletics, which includes over $150 million in facility construction and renovations.
The Michigan City, Indiana, native graduated from IU with a bachelor's degree in management from the Paul H. O'Neill School of Public and Environmental Affairs. Dolson and his wife, Heidi, who works as a Special Events Manager at the IU Alumni Association, have five children: Luke, Sam and Zach Wisen, and Kristen and Nick Dolson.
Backpacks — Indiana Black Expo
Beer — Miller Lite / Coors Light
Bunk Baskets — Fusion Alliance
Campfire Treats — Great Cooks
Daytime Treat Cart — Johnson, Grossnickle and Associates, Inc.
Daytime Treats — Dairy Queen
Golf Carts — KAR Services
Hospitality Area Wednesday Night — Arcamed
Hospitality Area Thursday Night — Hiatus
Late Night Snacks — Indianapolis Business Journal
Late Night / Fireside Snacks — CE Solutions
Morning Coffee — Mission Coffee, LLC
Snacks in Baxter Dining Hall — National Bank of Indianapolis
Wine — Tribute
Turn Down Gift — 185 Promotions
Turn Down Gift — Sweet Things